NWPS Co-Sponsors the 2022 Broadridge Fi360 Solutions Conference!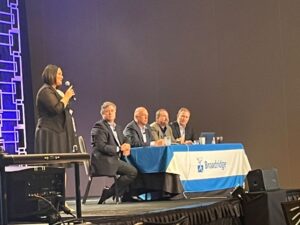 Several hundred retirement plan industry professionals gathered in Austin, Texas last week to discuss the latest trends and important topics impacting the retirement plan market today. Industry giants such as ERISA attorney Fred Reish, Editor-in-Chief of 401(k)Specialist, John Sullivan and sales & marketing brand sage, Sheri Fitts shared their perspectives on everything from ESG investing, in-plan annuities, cryptocurrency, to SECURE 2.0 and so much more. The agenda was robust, relevant, and timely.

The headliner was none other than Daymond John of NBC's Shark Tank who reminded the audience that "responsibility must be taken, not given." The "Retireholics" (have you seen these guys?) were also on hand providing their usual brand of levity and raucousness.

NWPS co-sponsored the event and conducted a highly informative session on Demystifying 3(16) Services. Scores of questions were posed to the panel by audience members. Contact us to receive a copy of the presentation.

Equally important to the agenda was the opportunity to visit with retirement plan veterans from every major discipline in the industry: advisors, custodians, recordkeepers, DCIOs, ERISA attorneys, middleware FinTechs, insurance companies, and brand consultants. So many professionals gathering to further the noble effort to provide plan sponsors and their participants the very best retirement plan possible.