NWPS Sponsors Wealth@wor(k) Conference in Las Vegas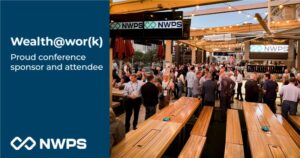 NWPS recently sponsored the Advisor2x Wealth@wor(k) conference in Las Vegas, NV. After months of preparation and planning, Bryant Lester, Meg Swoboda, and the event production team of Advisor2x were instrumental in helping us attain one of the most high-profile sponsorships for NWPS in 2022. After a COVID-related pause, the event was enthusiastically attended and drew over 500 attendees. In an industry where professional gatherings continue to elevate content value and networking opportunities, Wealth@Work has become a must-stop destination on the conference trail. A true industry mixer, the crowd was comprised of financial advisors, recordkeepers, fund companies, and a myriad of other actors seen on the retirement plan stage.

Wealth@wor(k) kicked off their three-day summit with a Sunday evening reception. NWPS was proud to sponsor refreshments, and graciously, the Advisor2x Team went out of their way to showcase our firm. With our logo in lights during the party, and the Vegas strip fountains as our backdrop, the event exemplified our commitment to growth and our strong partnership with Advisor2x. As a result of the heightened visibility, the NWPS team spent the week fielding questions and continuing conversations about who we are, what we do, and most importantly, why advisors consistently trust us with their most valued clients. It's a story we love to tell.

Recordkeeper consolidation will continue, and advisors will be consistently challenged to differentiate themselves from their competition. As one of the last pure recordkeeping firms in the industry, NWPS is an advisor's best kept secret. We are not looking to dilute your value proposition. We do not cross-sell services or mandate product use. We are an extension of the advisor's team, consistently delivering excellence in retirement plan recordkeeping, administration, and customized client services. Of utmost importance to our advisor partners is their plan participants are theirs! NWPS will never harvest participant data, which is becoming a driving revenue source for many larger recordkeepers, especially in a down market. Specialists, independents, and personal wealth advisors are all searching for an open-architecture partner who will allow them to deliver on their value proposition, achieve scale, and protect high-value relationships.

NWPS is that partner, and we want to hear your story.