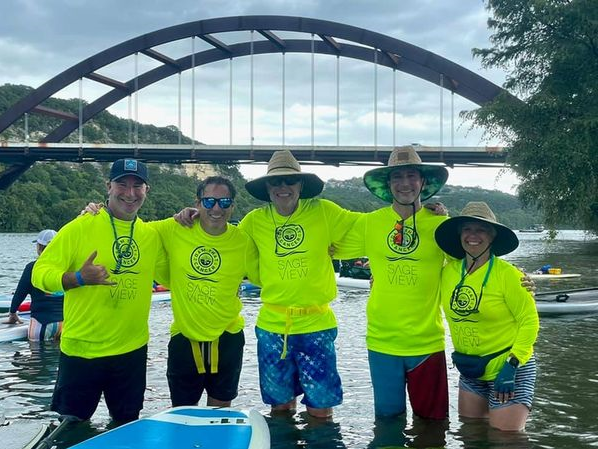 NWPS Supports SageView for Charity
Dam that Cancer!

That was the rallying cry as NWPS teamed up with SageView Advisory Group to benefit Flatwater Foundation in a 10-mile paddle board fundraiser down the Colorado River.

Flatwater Foundation is dedicated to providing those diagnosed with cancer, their families and loved ones' access to mental health therapy and family support during difficult times. This includes access to both traditional and non-traditional methods of psychological counseling. Executive Director Mark Garza has been paddling this board for more than 11 years.

SageView is an independent Registered Investment Advisor and one of the nation's premier advisors to qualified retirement plans working with some 1,300 clients with plan assets totaling over $150B. Michael Coelho C(k)P, AIF, Managing Director of SageView organized the firm's participation in this paddle with a purpose event. NWPS, along with several other SageView associates, friends and business partners raised over $100,000 for Flatwater.

"We simply could not have done this without the support of our partners, friends and family," said Mike. "Flatwater Foundation was able to exceed their goal which means more families will receive the care they need. We're onto something special here."

NWPS was honored to be a part of this very worthy cause.